His Holiness Pope Shenouda III Visits Dallas, Texas
January 22, 2008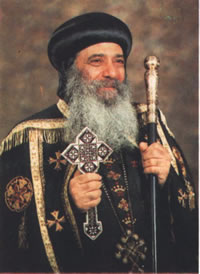 COLLEYVILLE, TX. January 22, 2008 -- "With upright heart he tended them, and guided them with skilful hand" (Psalm 78:72).
The Coptic Orthodox Diocese of the Southern United States will be blessed by the visit of our beloved father His Holiness Pope Shenouda III to Dallas, TX on February 2-3, 2008. His Holiness will be consecrating the altar at St. Abanoub Coptic Orthodox Church in Dallas, TX.
This blessed event will be broadcasted.
We ask You, O Son of God, to keep the life of our patriarch, His Holiness Pope Shenouda III, the high priest; confirm him upon his throne.
Click here for live streaming.
(Note: Link will be activated on the day prior to the time indicated.)
Day
Time
Activity
Saturday, February 2
7:00 pm
Vespers / Sermon
Sunday, February 3
7:30 am
Matins
8:00 am
Consecration of the Altar
9:30 am
Divine Liturgy