The Nativity of Christ by His Grace
December 13, 2009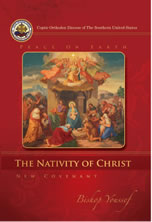 COLLEYVILLE, TX. December 13, 2009 -- The Coptic Orthodox Diocese of the Southern United States is pleased to announce the newest publication by His Grace Bishop Youssef, "The Nativity of Christ".
Upon the Feast of the Incarnation of the Word, it is important to reflect upon the birth of the Lord Jesus Christ and what He represents.

Cost: $3.00 (plus shipping and handling)
Click here to order.