Distribution Melodies - Arriving by the New Year
October 18, 2009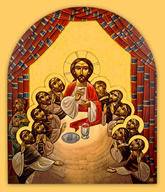 COLLEYVILLE, TX. October 18, 2009 -- Thanks be to God, the "Distribution Melodies" will be arriving by the New Year. We apologize for the delay due to the print shop but are excited for this new addition to the Diocese's publications.
It brings us great pleasure to present to you the first edition of "Distribution Melodies". This book contains all the melodies chanted during the distributions of the Holy Mysteries at the end of the Divine Liturgy.

This is the first comprehensive translation for all the Melodies (English/Arabic and Coptic when applicable) in order to help the believers participate in praising the Lord during the Distribution.

Also included in this book are the Melodies for the whole liturgical year and those that are chanted in the veneration of the saints.

A thorough review of the melodies in the book was done to ensure the accuracy of the translation.

We pray that God may use this humble effort to the glory of His name and that He may bless our congregations in order that they may learn and comprehend the richness of praising the Lord, especially during the holy time of the Distribution.

Cost: $14.99 (plus shipping and handling)
Special discount for large orders:
- 10% discount to orders more than 100 books
- 15% discount to orders more than 500 books
- 20% discount to orders more than 1000 books
Click here to order.