The Spiritual Meaning of Resurrection by His Grace
March 26, 2010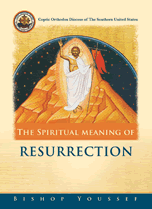 COLLEYVILLE, TX. March 26, 2010 -- The Coptic Orthodox Diocese of the Southern United States is pleased to announce the newest publication by His Grace Bishop Youssef, "The Spiritual Meaning of Resurrection".
Click here to order.
Be sure to visit the Diocese Bookstore. Now there are several publications by His Grace in Arabic and in English. It is also where you can order church books such as the Divine Liturgy Book and the Distribution of Melodies. If you are looking for a coloring book for kids, you will find it in the section called 'Other Books'. So visit the Diocese Bookstoreto see what is new to add to your personal library.