Books Written by His Grace
October 7, 2011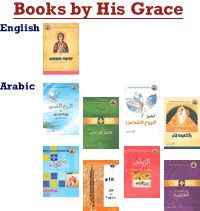 COLLEYVILLE, TX. October 7, 2011 -- Through the grace of God, the Diocese is happy to announce 9 newly published books written by His Grace.
Book written in English
Virgin Mary Icon of Simplicity
Books written in Arabic
Anger Management
Train Up a Child
Me and the Other
Marriage Covenant or Contract
Inner Healing
Holy Spirit & Pentecost
Fruit of the Holy Spirit
Christ is Risen Truly Risen
If you like to order or to see other books written by His Grace, please visit the Diocese bookstore at www.suscopts.org/diocese/bookstore/
May the Lord guide us in receiving the knowledge and wisdom offered throughout these books.