Broadcasting: The Nativity Feast Service
January 6, 2012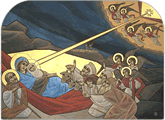 COLLEYVILLE, TX. January 6, 2012 -- Through the grace of God, St. Rebekah Coptic Orthodox Church in Orlando, FL is providing live streaming of the Nativity Feast with His Grace on Friday, January 6, 2012 at 7:30 pm (Eastern Time).
Click here for live streaming.
May the blessings of the Nativity Feast be with you all.