COLLEYVILLE, TX. September 1, 2005 -- "I would have lost heart, unless I believed that I would see the goodness of the Lord in the land of the living" (Psalm 27:13).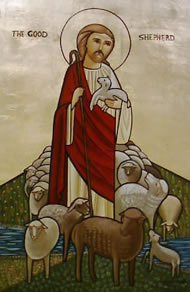 Just as the psalmist King David in the midst of adversity steadfastly confirms his faith we must also implore God's help in the distress of those in the congregation of St. Mark Coptic Orthodox Church adversely devastated by Hurricane Katrina.

The Southern Diocese would like all the Copts who have been displaced

by Hurricane Katrina to do the following:
Register online by completing this

form

so His Grace Bishop Youssef and Fr. Youstos may know of your confirmed safety and where you can be contacted.

Of utmost importance, as you return to view your businesses and homes if damaged by Hurricane Katrina take digital pictures for insurance purposes. Disposal digital cameras can be purchased for a nominal cost and expedite insurance claims on route into New Orleans.



News reports derived from Baton Rouge regarding New Orleans are advising that children in primary through high school levels need to be immediately registered for school outside New Orleans in order that they not be held back in the same grade the next enrollment year. There are NO New Orleans schools operational at this time. Please keep in mind the school systems in Louisiana outside the New Orleans parameter are rapidly filling up any empty allotments following their local student registrations, if you have more than one child and would like your children to be placed together. It is advised that the New Orleans area school systems should be (potentially) operational in three to four months so perhaps enrollment will only be necessary for this amount of time. The same may be said for temporary housing such as rental apartment unit leases.



The Southern Diocese has established a relief assistance. Please, as you register your name and location and state any needs you may have for yourself or your family. God willing we will try to help in housing as much as we can.



For any person in need of medical supplies such as medications please make the Southern Diocese aware of your needs. Be prepared to name the pharmacy you patronized if you do not know medication names or dosages in order that your records can perhaps be accessed by another of the same chain of stores. Again, the diocese will need an address or pharmacy telephone number that you plan to use at the present time to pick up your medicines. If you need assistance with purchasing your medications this will be provided as well.



If you re-enter New Orleans at any time remember safety issues as looting is pre-dominant in the city. I am assuming the same may be the case else where the Hurricane has devastated areas.



There have been no updates regarding the status of the St. Mark New Orleans Church at the present time.



If you would like to contribute to the Southern Diocese's Hurricane Katrina Disaster Relief Fund make your check payable to Diocese of the Southern United States indicating Katrina Fund and mail it to:

Diocese of the Southern United States
P.O. Box 1005
Colleyville, TX 76034-1005


For those members of St. Mark Church who have been evacuated to shelters and have computer access, text message access, etc. Please notify the Southern Diocese at

relief@suscopts.org

and the church nearest your location will send someone for you.

A special Divine Liturgy (to be announced on the website very soon) will be held by His Grace Bishop Youssef and Fr. Youstos for all those of the St. Mark Coptic Orthodox Church in New Orleans.
The Holy Book of Isaiah states, "For I, the LORD your God, will hold your right hand, saying to you, 'Fear not, I will help you'" (Is 41:13).
The congregation of St. Mark New Orleans is in our fervent prayers as well as in the prayers of our entire Diocese. May God be with you all.