Lived His Eternity
---

Print |

Send to a friend |

Bookmark | Tweet | |

Back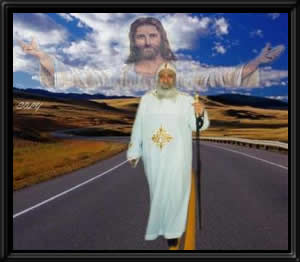 Heavenly Departure March 17, 2012
His Holiness Pope Shenouda III
117th Pope of Alexandria
Patriarch of the See of St. Mark...
"As the deer longs for the springs of water, so my soul longs for You, O God. My soul thirsts for the living God. When shall I come and appear before the face of God?" (Psalm 41:1-2, OSB).
Many will begin to eulogize His Holiness Pope Shenouda III's great papal accomplishments. His Holiness' evangelism throughout the world with hundreds upon hundreds of Coptic churches firmly established outside the Coptic motherland of Egypt is astounding. His Holiness continental travels and countless writings in multiple languages far exceed the stamina of a single human man. Compounded exceedingly with the infinite and complex responsibilities of Coptic leadership, even at an advanced age, His Holiness' church advancements flourished.
His Holiness Pope Shenouda III's love of the Lord our God, the Coptic Church, and its faithful encompassed the country it sprang forth from. Adversities and travails frequently encountered by a minority population within its birthplace were unrelenting. Even so, it did not lessen nor overwhelm our dearly departed pope's love of Egypt as His Holiness' "heavenly country". History will record His Holiness' love of Egypt "as not a country we live in-- but a country that lives within us."
"But now they desire a better, that is, a heavenly country" (Hebrews 11:16).
Soon enough, His Holiness' sayings will be even more intensely recorded into Coptic history. But what actually was the impetus that propelled His Holiness Pope Shenouda III to accomplish so much greatness in such a historical short span of time, in a twinkling of an eye?
As a young adult his simple wish was to become a monk within the confines of a secluded monastery, increase in asceticism, further isolating from worldliness in a desire for closeness to our Lord. His Holiness Pope Shenouda III throughout his adult life would claim the Wadi El Natroun desert as his home. Perhaps within monasticism accompanied by His Holiness Pope Shenouda III's great love of our Lord Jesus Christ he sought a path to everlasting life, eternity.
Through the desert way of refining winds and harshness of life, His Holiness strove to enter through the narrow gate and live his eternal aspirations. It is an easy path of life to succumb to sins and human weaknesses and a difficult pathway to avoid the ways of the world.
"Enter by the narrow gate; for wide is the gate and broad is the way that leads to destruction, and there are many who go in by it. Because narrow is the gate and difficult is the way which leads to life, and there are few who find it" (Matthew 7:13-14).
Certainly we know that the desert is both refinements of the physical and spiritual natures of man as well as its paradise. Through the desert, the dust of which forms us all, a learned, college educated, theologically sound monk would become clothed with Eternity.
"And as we have borne the image of the man of dust, we shall also bear the image of the heavenly Man" (I Corinthians 15:49).
Just as our present bodies are that of Adam's so the resurrection body will be that of the last Adam, our Lord Jesus Christ.
What will be written about the spirit and soul of our beloved departed pope? It is the spirit and soul that actually produces the work of the mortal man. "The body is not possessed of greater power than the soul. For indeed the body is inspired, vivified, increased, and held together by the soul. The soul possesses and rules over the body...For the body may be compared to an instrument; but the soul is the inspiration of life...an artist who uses the instrument" (Irenaeus c. 180).
The providence of God gives us all what we need within every place and time. Our long and unbroken chain of 117 patriarchs has proven this well. God's direction and care has provided us with what we needed in due season.
Perhaps His Holiness Pope Shenouda III's vast array of accomplishments can be attributed to his human cooperation with the Lord our God. His Holiness Pope Shenouda III cooperated with the Lord and shared his gifts of language, moderation, preaching and teaching, theological perception and steadfastness, and writing. In cooperation with the Lord our God, these gifts were created into understanding and expansion of world wide Coptic unity and assimilation.
St. Clement of Alexandria c. 190 wrote, "Now then, many things in life take their rise in some exercise of human reason, having received the kindling spark from God. Some examples are health by medicine, soundness of body through exercise, and wealth by trade. Now, all these things truly have their origin and existence because of divine providence—yet not without human cooperation as well."
Human cooperation with God perhaps can be attributed as the greatest asset of our dearly beloved departed 117th Pope of Alexandria. How else can it be reasoned that so much was accomplished in so few years of papacy? His Holiness Pope Shenouda III, Pope and Patriarch of the See of St. Mark's epitaph should include 'His Holiness who lived His eternity through wondrous and productive good works in human cooperation with the Lord His God.'
God's transcendent knowledge chose His Holiness, precise suitability for the fullness of this time. Nothing is by accident. Nothing escapes the knowledge of God. Nothing is in vain. His Holiness Pope Shenouda III was what the nature of the Coptic faithful needed and through the cooperative human nature of Pope Shenouda III the church not only flourished but it exceeded the expectations, hope and imagination of us all in its population growth and expansion/immigration to other lands. His countless articles and books exceed any other Pope before him.
Lastly it cannot be ignored that adversity seems to come upon every leader of the Coptic Church. Peaceful times seem to be short lived. Moderation is difficult as children and women are ruthlessly martyred. Moderation is difficult when churches are turned into ash. But when our holy fathers are cooperative with God, they must practice the perfection the desert life forges.
"For our light affliction, which is but for a moment, is working for us a far more exceeding and eternal weight of glory, while we do not look at the things which are seen, but at the things which are not seen. For the things which are seen are temporary, but the things which are not seen are eternal" (II Corinthians 4:17-18).
St. Augustine taught that "a bunch of grapes does not become wine nor olive release oil until the pressing stone goes over them." When trials and suffering intensify they result in perfection, not in destruction. His Holiness Pope Shenouda III understood this well.
Egypt does not exist for the productivity of its people but rather the people exist to make a more productive Egypt. What would a man be without making his country a better place? Bloodshed does not make fertile soil, riots do not make a peaceful government, and a country whose safety is enhanced by the sword will fall on its sword. History has taught this lesson time and again. His Holiness Pope Shenouda III taught this platform and lived it.
St. Augustine wrote, "Real patience which is worthy to be considered a virtue is that which makes us endure evil quietly, else by doing wrong we lose the benefit of endurance. He who has no patience and refuses to endure the sufferings, his lack of patience does not rescue him from the trials but rather intensifies them."
In his farewell speech to the priests of the City of Ephesus, the Apostle St. Paul fervently preached,
"...the Holy Spirit testifies in every city, saying that chains and tribulations await me. But none of these things move me; nor do I count my life dear to myself, so that I may finish my race with joy, and the ministry which I received from the Lord Jesus, to testify to the gospel of the grace of God" (Acts 20:23-24).
It is of great significance that His Holiness Pope Shenouda III has departed this earthly world during the forty days before the Glorious Feast of the Resurrection as this refers to our life of struggle and death. It was indeed the same for His Holiness. In His Holiness' life of cooperation with the Lord our God, He will no longer be in anticipation of the fifty days after the Glorious Resurrection which symbolize our life after the resurrection of our Lord Jesus Christ and the Heavenly life in the Kingdom of Eternity. His Holiness Pope Shenouda III will be living out his anticipation. Praise be to God.
In Heaven His Holiness will have no need to be wiser, because there will be no evil; there will be no need for justice because there will be no injustice; and there will be no need for endurance and moderation because there will be peace. His Holiness will be clothed in lasting eternity.
The legacy of peace through patient endurance must live on in Egypt as homage and honor to our beloved pope and patriarch Pope Shenouda III.
"He who is slow to anger is better than the mighty, and he who rules his spirit than he who takes a city" (Proverbs 16:32).
Through the leadership of His Holiness Pope Shenouda III the world did not decide the fate of the Coptic Christians and as a lasting legacy to the Pope whose life accomplishments echoed this; may we all ask for the Lord's peace to come upon us during this difficult yet rejoicing time for our father who lived out his lifelong eternity.
May we all pray to the Lord for the blessed union of His Holiness' cooperative soul with the glorified body of our Lord Jesus Christ as we meaningfully anticipate the Glorious Feast of the Holy Resurrection,
Bishop Youssef
Bishop, Coptic Orthodox Diocese of the Southern United States
---

Print |

Send to a friend |

Bookmark | Tweet | |

Back