Mission Statement: To promote unity, evangelism, and remembrance among Copts globally. "And if one member suffers, all the members suffer with it; or if one member is honored, all the members rejoice with it" (1 Corinthians 12:26).

Project Background: As young Copts in this country, we feel a need to reconnect with our Coptic heritage, and to unite with our brothers and sisters abroad. We feel that there is a large disconnection between the youth in this country and our identity as a church, and we want to do something about it.

The Coptic unity is reaffirmed in every Divine Liturgy when we clasp our hands with one another as a symbolic gesture of one body. We hope that this project will contribute to that positive conviction.

This project evolved out of a hope to unify us as a people, one body in Christ, and through our solidarity, we can offer strength to all members of our community.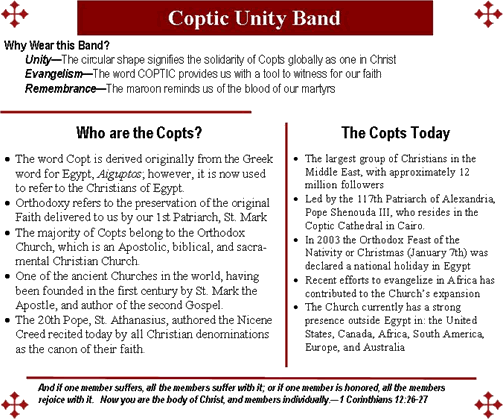 ---

Fequently Asked Questions

Q: What is the purpose of this project?
A: Unity among Copts, Evangelism of our faith, and Remembrance of our martyrs.
Q: Why not give the money directly to the charities?
A: We encourage everyone to support the charities to the extent that they are able; however, our main purpose with this project is to encourage unity among the Copts. As the Holy Bible calls for Unity in Diversity (1 Corinthians 12:26), we will have a visible reminder to suffer with the suffering and rejoice with the rejoicing. Eventually, with Unity, we will be able to affect larger more sweeping change internationally.
Q: Why are we following a worldly trend?
A: The bands are well known as supporting various causes. By wearing a band, anyone, even non-Copts, will know that it is a sign of support, and when others notice a color they haven't seen before, it will prompt them to ask questions. The band is then taken from just a tool for remembrance internally, to a vehicle for evangelism to all we meet.
Q: How is this effective?
A: Just as wearing a cross reminds the bearers of their unity through their faith, the bands provide a modern, visible reminder of our Unity, Evangelism, and Remembrance. This will encourage all Copts to feel and act as one body.

Q: Where is the money going?
A: The proceeds are going to one of three US-based Coptic charities, that serve the Copts in Egypt, and they are: BlessUSA (NJ), St. Verena (CA), and the Social Services Committee (HOPE) of the Southern Diocese (TX).

Q: Can someone who is a non-Copt buy the band?
A: Anyone who supports the cause is encouraged to buy and wear a band.
Q: Why should I pay for the band?
A: All the proceeds are going towards helping our less fortunate brothers and sisters in Christ. The $2 is just a token, showing that although we are not in the same country, we are still united in Christ's body.

Q: What if after 6 months people stop wearing the bands?
A: The bands are just a symbol of what we are trying to achieve. Just by our efforts we hope to show the need for Unity among Copts and the need for remembrance for those who have sacrificed for our faith. If people do not wear their bands forever, we hope God will bless our efforts and at least plant a seed that this is an important issue to think about. During the short time that they do wear the bands, they will generate interest in people they interact with and the questions that come up will help us spread the word to people who knew nothing about us beforehand.

Q: Can we donate more than the $2 for the band?
A: Yes, additional funds are encouraged to support the cause.

Q: Can we donate money to the Coptic Unity Band project?
A: Yes, we are always in search of additional funding, please contact us via email below.

Q: Who should I call for further information?
A: Email us at: cub@suscopts.org