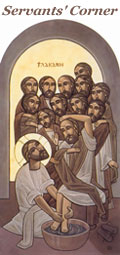 The objective of the servants program is to strengthen our faith and our understanding of the true and sound doctrine of the Coptic Church to prepare a strong generation for the future. It is designed to help the young and the old to "
search the Scriptures, for in them you think you have eternal life; and these are they which testify of Me
" (John 5:39). To help the servants in the search process, "
I... beseech you to walk worthy of the calling with which you were called, with all lowliness and gentleness, with longsuffering, bearing with one another in love, endeavoring to keep the unity of the Spirit in the bond of peace. There is one body and one Spirit, just as you were called in one hope of your calling; one Lord, one faith, one baptism; one God and Father of all, who is above all, and through all, and in you all
" (Ephesians 4:1-6). In summary, evaluation tests are not the objective of the program. The objective is to arm the servants for the service of the Lord "
That the man of God may be complete, thoroughly equipped for every good work
" (2 Timothy 3:17).