Reading Recommended by His Grace
The Holy Fifty Joyous Days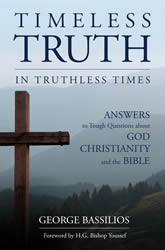 In the Name of the Father, the Son, and the Holy Spirit, One God, Amen.
The reading recommended for the Holy Fifty Joyous Days is, "Timeless Truth in Truthless Times" by George Bassilios. The book is intended to equip clergy, servants and youth with answers to challenging tough questions about the faith. It serves as a study guide for an apologetic curriculum in Sunday School ministry.
It is the culmination of 15 years of Christian Apologetics (defending the Christian faith) and youth ministry. The book consists of insightful and concise answers to 35 tough questions about God, Christianity and the Bible, such as:
Who created God?
Why did God create people knowing they will end up in hell?
Why is there so much evil in this world?
Can I live a good moral life without God?
Is it wrong to doubt my faith?
This precious book aims to provide you, its readers, not with a shallow worldly knowledge, but with a knowledge of action that leads you towards faith. It enlightens your souls and prepares you to receive a more refined knowledge of the Spirit that uncovers the spiritual mysteries. I pray that God will use this blessed book for the salvation of many.
Bishop Youssef
Bishop, Coptic Orthodox Diocese of the Southern United States
You may find this book in the following locations: