His Holiness' Inquiry on His Children After Hurricane Ike
September 24, 2007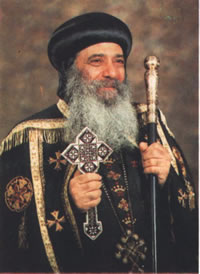 COLLEYVILLE, TX. September 24, 2008 -- "With upright heart he tended them, and guided them with skilful hand" (Psalm 78:72).
His Holiness Pope Shenouda called H.G. Bishop Youssef yesterday to inquire on the condition of his children in the Southern Diocese and the churches after Hurricane Ike. Thanks be to God, there were no causalities. Some people have encountered damage to their homes but no damage was done to the 3 churches in Houston.
We thank His Holiness for keeping us in his prayers. We ask the Lord to preserve his life for us.