The Coptic Orthodox Diocese of the Southern United States is composed of 44 priests serving the 37 churches and 26 Coptic communities. More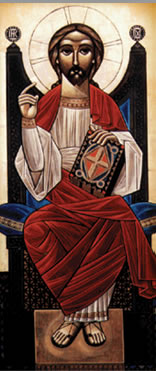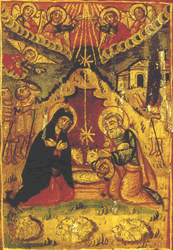 The Season of the Church
The Nativity Fast
Nov 25, 2013 - Jan 6, 2014
Hathor 16 - Koiahk 28, 1730
December 13, 2013
Koiahk 4, 1730
He came to earth to raise you to heaven. There was no place for Him except in the cow's manger, to prepare for you a mansion in heaven.
St. Ambrose, Bishop of Milan

The Genealogy of the Lord Jesus Christ
Society in Biblical times was organized along family and tribal lines. Genealogy was of importance in establishing a person's lineage. Religious importance was determined by whom your forefathers were. For example, only the descendants of Aaron could become priests (Exodus 28:1). Temple officials had to examine extensively the genealogy of those presented for the priesthood. Old Testament genealogies also reminded the Israelites of their history as the chosen people of God.

Genealogies in the Holy Bible are not meant to be an exact detailed lineage of birth nor are they always complete. For example, the list of Aaron's descendants in the Holy Book of I Chronicles 6:3-15 includes names that do not appear in Aaron's genealogy in the Holy Book of Ezra (Ezra 7:1-5). Genealogies are thought to primarily establish a family's link with the past.
Read more
St. Mary, Mother of God: "Humble Hands"
Two thousand years have passed since the time of our Lord Jesus Christ on earth leaving behind much room for intellectualization as well as speculations; but above all casting a perpetual illumination on the type of life our dear Mother of God had led and the duties carried out by those "humble hands".

The Holy Scripture does not provide detailed accounts of the day-to-day incidents during our Lord's growing periods from infancy to manhood; but through simple deduction we get to know that St. Mary played a vital role in our Lord's life. This article will consider the various stations at which St. Mary stood and proved herself to be of humble yet miraculously achieving hands.
Read more
---
Blessed St. Mary: "An Honored Lady of No Choices"
St. Mary was miraculously born to a rich man named Joachim and his barren wife, Anne. From the age of 6 months "undefiled" daughters of the Hebrews cared for St. Mary. At the very young age of 3, St. Mary was then taken to reside in the Temple at Jerusalem.

St. Mary at the age of 12 would become engaged to St. Joseph. Zacharias the priest wanted to find a suitable man to assume the care for St. Mary. The priest gathered together the canes of her male relatives and placed the canes in the Temple. The following day, the cane of St. Joseph the carpenter budded, similar to Aaron's rod in the Old Testament.
Read more
---
The Blessed Virgin Mary and the Love of Honor
Whenever one tries to approach the Blessed Virgin Mary to understand the secrets behind her life, one's mind gets boggled and baffled by them. For, while a lot of women and leaders of women's movements fight to obtain rights and honor, this simple poor girl appeared on the scene of events to become not only higher than those on earth but also those in heaven. As St. Isaac the Syrian said, "whoever runs after honor, it runs away from him and whoever runs away from honor willfully honor chases him and lead people to him." That is why God had honored this girl and chosen her to become His Mother.
Read more
---
Monasteries Outside Egypt, Blessings and Challenges
Monasticism is the backbone of the church, carrying and protecting it, as did Moses with Joshua in his war with the Amalekites. Moses symbolizes monasticism, with lifted hands to heaven, praying for Joshua, who symbolizes the ranks of the servants, consecrated deacons, and clergy fighting against Amalek, symbolic of Satan (Exodus 17:8-13).

Each time Moses lifted up his hands, Joshua would prevail over the Amalekites, and whenever Moses let down his hands, Joshua would be defeated by the Amalekites. Victory of the serving church that struggles in the world exists in the uplifted hands in the wilderness beseeching God on her behalf.
Read more
---
Forgiveness: A Journey to Healing
Forgiveness is primarily a favor done to oneself. This is because you may forgive while the opponent does not care if you do or you do not. Those who crucified the Lord Jesus did not care whether He would forgive them or not. However, He did so that healing to His emotions may take place and to set a precedence for us. Holding a grudge entails loss of peace whereas forgiveness accelerates healing.
Read more
---

We Are More Than Conquerors Through Him Who Loved Us (Romans 8:37)
King David's Faith in God Persevered and Israel Increased


New Program-Boarding Seminary Press Release
Austin, Texas - Priest Ordination
Southern Coptic Diocese "Youth for Christ" 2014 Award
St. Clement Academy Needs Your Vote
Mighty Arrows Magazine - Fall 2013 Edition
The Fruit of Faith
Read now
Subscribe now
Word of Wisdom: Subscribe to the Abbey's New Mailing Program
St. Moses Bookstore
---

---
Family Ministry Program
(FMP) Spring Registration deadline: Dec 10, 2013
Learn more
Watch video
LEAD Program
A program for learning Christian leadership principles.
Learn more
Theological Seminary Program
Program Registration deadline: March 15, 2014
Learn more
Archangel Raphael Ministry (A.R.M.)
A program designed specifically for individuals with special needs.
Learn more
H.O.P.E. Social Services
A social services program designed to help those in need.
Learn more
St. Clement Christian Academy
This is a learning community dedicated to meeting the needs of each learner within its walls.
Learn more
St. Mark Festival Program
This is a spiritual competition among the Coptic Churches doing the same activity world wide.
Learn more
St. Verena Resource Ministry
(SVRM) Professionals networking together to make a difference and provide resources to our Coptic community. To make a request or to volunteer as a consultant.
Learn more
TIPS: Search for Job & Education Opportunities
---
THY College Convention
Dec 18-21, 2013
more info
WTL High School Conventions
Girls: Dec 21-24, 2013
Boys: Dec 25-28, 2013
TX Winter Middle School Camp
Dec 26-28, 2013
more info
Kids Camp
GA/TN: Dec 26-29, 2013
FL: Dec 28-30, 2013
Pre-Marital Retreat
TN: Jan 3-5, 2014
FL: Jan 10-12, 2014

Crossroads Graduate Convention
Feb 6-9, 2014
more info
CPAR Convention
Feb 27-Mar 2, 2014
more info coming soon
S.V.R.M./H.O.P.E. 2nd Annual Conference & Banquet
May 2-3, 2014
Atlanta, GA
more info coming soon
Sudan Mission Experience Trip 2014
June 10-22, 2014
see flyer
more info coming soon
Evangelism & Apologetics Conference
Aug 1-3, 2014
more info coming soon