The Coptic Orthodox Diocese of the Southern United States is composed of 44 priests serving the 38 churches and 28 Coptic communities. More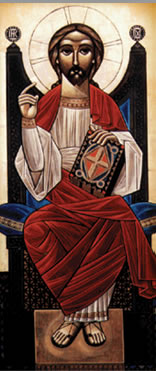 The Season of the Church
The Departure of St. Anthony the Great
Jan 30, 2015
Tobe 22, 1731
January 27, 2015
Tobe 19, 1731
Be humble so that God guards and strengthens you, because God looks to the humble. Be humble so that God fills you with wisdom, knowledge, and understanding, because it is written that He guides the humble and teaches His ways to the meek. Be humble in order to be joyful, because joy goes hand in hand with humility.
St. Pachomius

Church Readings
Coptic Year Sunday Readings Program
Arabic
---
St. Anthony - A Saint in Search of Perfection
My admiration for St. Anthony, affectionately referred to as the "Father of Monks," began during childhood. Each year at the Church of St Anthony in Shubra, Cairo, while celebrating his feast day, the 22nd day of the month of Tobe (January 31), I would listen to sermons, which always described his life as a quest for spiritual perfection. St. Anthony strived not for a better position in life, a better social standing, but even greater than these - was his desire for spiritual excellence.

St. Anthony had no material needs. He did not marry and had no natural sons. He was not a priest. He founded no monastery. St. Anthony had no help from others at all. God satisfied his needs.

So who was this person who lived in the deserts and mountains among the beasts and snakes? Who lived in fearful solitude along with boredom and who struggled with demons? How did he survive and how did he search for spiritual excellence in such surroundings? I would like to share a small part of this saint's biography with you.

St. Anthony was born to Christian parents about 251 AD in the village of Kemmen El-Arous, near the city of Beni Suef. This small village was located in the middle of Egypt. As a youth St. Anthony grew up in the church absorbing all its biblical teachings. His love for Christ grew as each day passed.
Read more
---
Christ Among "The Royal House of David" through St. Joseph's Descendants
"And Jacob begot Joseph the husband of Mary, of whom was born Jesus who is called Christ" (Matthew 1:16).

The righteous St. Joseph was the Lord Jesus Christ's father in the flesh. St. Joseph had been betrothed to the virgin St. Mary before the Lord's glorious Nativity. The Holy Bible refers to engaged couples such as St. Joseph and St. Mary as husband and wife. Through St. Joseph's lineage, legal paternity to the Lord Jesus Christ has been confirmed, although He is born unto the ever-virgin St. Mary.

According to Jewish tradition hereditary rights could be confirmed on adopted as well as biological sons. The Lord Jesus Christ is born out of neither legal, traditional, nor customary binding marriage bonds.

The Holy Gospels of both St. Matthew and St. Luke confirm and emphasize that the Lord Jesus Christ was counted among the House of David at His birth. St. Mark and St. John, in their Holy Gospels, refer to the Lord as the "son of Joseph". Therefore, St. Joseph is a divinely determined and central figure in the birth of the Lord Jesus Christ perhaps primarily for his ancestry and his mercifulness.

The House of David typified the royal nature of the Glorious Nativity. King David received the authority of kingship to lead Israel, from God through his anointing by the prophet Samuel and through his kingship preserved the covenant of God. King David was a repentant sinner and consequentially had a kingdom which could be destroyed.
Read more
---
Gentleness: An Essential and Pure Vessel
Gentleness is a fruit of the spirit, a virtue of meekness of personality, mildness in discretion, softness of manner, being amiable among friends, and sensitivity to the needs of others. A Christian's gentle approach consistently encourages good will and reinforces contentment.

St. Paul advised the early Christians "Therefore as the elect of God, holy and beloved, put on tender mercies, kindness, humbleness of mind, meekness, longsuffering; bearing with one another and forgiving one another, if anyone has a complaint against another, even as Christ forgave you, so you also must do" (Colossians 3:12-13).

The early church fathers frequently associated the Holy Spirit with the virtue of gentleness. The Holy Spirit is of a sensitive essence, and greatly favors a gentle dwelling place that is mild, and practices moderation. Hermas (c. 150) wrote,
Read more
---
Confession: Absolution, Guidance, and Growth - Part One
Compared to all the church mysteries, the Mystery of Confession is unique in that it holds so much for individuals and it is a great responsibility, the cornerstone on which the eternal future of individuals depends and whereby they receive absolution, reconciliation with God, chastisement (when needed) and support. God's verdict concerning the spiritual wellbeing of people is spelled out in his words "his blood I will require at your hand" (Ezekiel 33:8). Confession can only be conducted before a priest whereas counseling can be carried out by servants and deacons; as this wisdom -related ministry is spoken about in the bible in both the old and new testaments. In the Mystery of Confession the priest disappears behind the person of Jesus Christ who came to fulfill the prophesy "The Spirit of the LordGodisupon Me, because theLordhas anointed Me to preach good tidings to the poor; He has sent Me to heal the brokenhearted, to proclaim liberty to the captives, and the opening of the prison tothose who arebound; to proclaim the acceptable year of theLord, and the day of vengeance of our God; to comfort all who mourn, to console those who mourn in Zion, to give them beauty for ashes, The oil of joy for mourning, the garment of praise for the spirit of heaviness; that they may be called trees of righteousness, the planting of theLord, that He may be glorified" (Isaiah 61:1-3).
Read more
---
Jonah - "The Lord, his God"
Jonah, according to Hebrew tradition, was the son of the widow, whom Elijah, the prophet, raised from the dead at Zarephath of Sidon (II Kings 17:10-24). He was a prophet in the Northern Kingdom of Israel around 825-784 BC. Therefore, Jonah prophesied during the reign of Jeroboam II, the King of Samaria (II Kings 14:25).

The Holy Book of Jonah in the Old Testament tells the familiar story of Jonah, the fleeing prophet. Forty-eight verses comprise the entire story. This is a story of a legendary character with a nature similar to our own. Jonah, a contemporary of the prophet Amos, had faults, shortcomings, and weaknesses.
Read more
---

Voyage Into the True Deep: Discovering the Kingdom of God
Who Can Bind the Plunderer?
What is That in Your Hand?...The Lord is in Need of It


Southern Coptic Diocese "Youth for Christ" 2015 Award
Help Support St. Clement via Amazon
Mighty Champions Magazine - Winter Edition 2015
"The Reason for the Season"
Read now
Subscribe now
Mighty Arrows Magazine - Fall Edition 2014
Launch Out Into The Deep
Read now
Subscribe now
Word of Wisdom: Subscribe to the Abbey's New Mailing Program
St. Moses Bookstore
---

---
Asaph Hymns Institute
(AHI) is the first ever online hymnological seminary.
Learn more
Family Ministry Program
(FMP) Spring Registration deadline: Jan 10, 2015
Learn more
Watch video
LEAD Program
A program for learning Christian leadership principles.
Register Now
Theological Seminary Program
Program Registration deadline: March 15, 2015
Learn more
Theological Seminary Program - Nashville
An Arabic theological program located in Nashville.
Learn more
Theological Seminary Boarding Program - Abbey
A 2 year live-in program located at St. Mary and St. Moses Abbey.
Learn more
---
Archangel Raphael Ministry (A.R.M.)
A program designed specifically for individuals with special needs.
Learn more
H.O.P.E. Social Services
A social services program designed to help those in need.
Learn more
St. Clement Christian Academy
This is a learning community dedicated to meeting the needs of each learner within its walls.
Learn more
St. Mark Festival Program
This is a spiritual competition among the Coptic Churches doing the same activity world wide.
Learn more
St. Verena Resource Ministry
(SVRM) Professionals networking together to make a difference and provide resources to our Coptic community. To make a request or to volunteer as a consultant.
Learn more
TIPS: Search for Job & Education Opportunities
---
Pre-Marital Retreat
TX: TBA
FL: TBA
TN: Feb 6-8, 2015
GA: Jun 12-14, 2015
more info
Crossroads Graduate Convention
Feb 19-22, 2015
more info
CPAR Convention
Feb 26 - Mar 1, 2015
more info
Florida Youth Convention
Mar 6-8, 2015
more info
Coptic Renewal Retreat
Mar 13-15, 2015
more info
Grand Tour of Egypt and the Holy Land
May 3–22, 2015
more info
SUS Diocese Mission Experience Trip 2015 - Ethiopia
May 26 - Jun 5, 2015
more info
Diocese Pilgrimage to the Holy Land
Oct 19–31, 2015
Details coming soon. Registration to open in March.