Reading Recommended by His Grace
The Holy Great Fast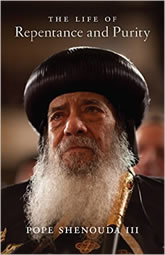 In the Name of the Father, the Son, and the Holy Spirit, One God, Amen.
The reading recommended for the Holy Great Fast is, "The Life of Repentance and Purity" by H.H. Pope Shenouda III. This well written book is the second edition translated by H.G. Bishop Suriel.
This book is divide into six parts in which His Holiness explains the life of repentance. It begins with defining what is repentance and the struggles we are faced upon. Yet our Lord Jesus Christ is inviting us, through repentance, to share His Kingdom as a token of His love for mankind.
The next part focuses on the incentive of repentance. His Holiness explains:
"Our repentance needs to be built on a sound foundation, on true understanding of the spiritual life and our relationship with God. The most important motive for repentance is to know our own worth for each of us to know his own capabilities and who he is. So, my brother, know yourself."
His Holiness continues to the means of repentance by guiding us on how to repent. We need to sit by ourselves for true self-examination and avoid justification for our sins and procrastination for the life of repentance. Reassessing our behavior and staying away from sin are part of the methodology of repentance. Thus seek our Lord Jesus Christ for obtaining the power to live a righteous life.
The fourth part His Holiness addresses is the signs of repentance or the fruits of the penitent. A variety of emotions encountered leading to a life of humility and spiritual fervor. Repentance is a life changing event. His Holiness tells us:
"Repentance is not merely confession and Holy Communion; it is leaving sin to walk positively in the life of righteousness."
His Holiness concludes with the purity of heart and protecting repentance; fifth and sixth parts, respectively. One of the signs of a perfect repentance is the purity of heart. The book examines this point throughout various chapters. We need to acknowledge that to live the life of repentance it is important to repent continuously as a preservation of keeping the light of our Lord Jesus Christ within our hearts.
I thank our Lord Jesus Christ for the teachings of our beloved H.H. Pope Shenouda III given to us through this book, throughout his papacy, and throughout his exemplify life. We ask for his continuous prayers and to intercede on our behalf.
I also thank our Lord Jesus Christ for the efforts made by H.G. Bishop Suriel in providing an essential and well written English book to those seeking to live the life of repentance and purity. I pray that every reader will have a comprehensive overview of a repentant lifestyle and accepts the invitation from our Lord Jesus Christ to share in His kingdom; glory be to God forever, Amen.
Bishop Youssef
Bishop, Coptic Orthodox Diocese of the Southern United States