Reading Recommended by His Grace
During the blessed month of Paope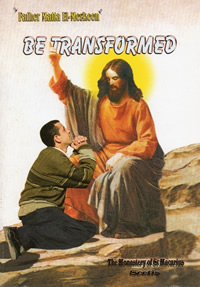 In the Name of the Father, the Son, and the Holy Spirit, One God, Amen.
The reading recommended for the month of Paope is "Being Transformed" written by Fr. Matta El-Meskeen (Fr. Matthew the Poor).
This books sheds light on how to a Christian life is an unending transformation involving two parts: 1) a divine part through the Mystery of God's work and 2) a human part that is fulfilled through effort, willful power, and vigilance. Both parts are essential and connected to lead to a continuous change in a Christian life.
Fr. Matthew the Poor explains that the divine part is beyond our human ability. It is the mystery of baptism and the mystery of partaking Holy Communion which provides for us the continual connection with living with the Divine nature. This truth is a source of joy, assurance, and unending hope that guides us to attain a daily renewal in our lives.
The human part of change depends on the Divine part and evolves on our will to take on a new nature with new thoughts and behavior. This newness needs a moving power and light to guide it which Fr. Matthew the Poor explains originates for the Word of God. This books sheds lights on many verses from the Holy Bible inciting change.
Fr. Matthew the Poor further explains that two factors are needed to adhere to effectively living the Word of God: 1) a continual concentration on the commandment and 2) placing all hope on the grace of God that supports the Word.
I pray that each of us attains an new perspective of how to live a transformed life as Christians on a daily basis through the mystery of the Holy Sacraments and the Word of Almighty God to whom is glory forever, Amen.
Bishop Youssef
Bishop, Coptic Orthodox Diocese of the Southern United States
You may find this book at our St. Moses Bookstore: http://www.stmosesbookstore.org/index.php/books/a-be-transformed-detail