Reading Recommended by His Grace
The Holy Great Fast
The 17th day of the blessed month of Meshir - The 3rd day of the blessed month of Parmoute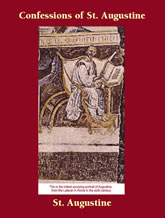 In the Name of the Father, the Son, and the Holy Spirit, One God, Amen.
The reading recommended during the Holy Great Fast is "Confessions of St. Augustine" by St. Augustine (Newly translated and edited by ALBERT C. OUTLER, Ph.D., D.D.). This book focuses on repentance and confession made by St. Augustine throughout his life entangled with the mercy of our Lord.
"The Confessions are not Augustine's autobiography. They are, instead, a deliberate effort, in the permissive atmosphere of God's felt presence, to recall those crucial episodes and events in which he can now see and celebrate the mysterious actions of God's prevenient and provident grace."
This book "Confessions of St. Augustine" demonstrates two levels of confessions; one of St. Augustine's own sins and the other related to the knowledge of God and His grace. It shows that to confess, one should praise and glorify our Lord Jesus Christ through an exercise of self-knowledge and humility which will leads to reconciliation with our Lord.
"From autobiography to self-analysis. Augustine turns from his memories of the past to the inner mysteries of memory itself. In doing so, he reviews his motives for these written "confessions," and seeks to chart the path by which men come to God. But this brings him into the intricate analysis of memory and its relation to the self and its powers. This done, he explores the meaning and mode of true prayer. In conclusion, he undertakes a detailed analysis of appetite and the temptations to which the flesh and the soul are heirs, and comes finally to see how necessary and right it was for the Mediator between God and man to have been the God-Man."
Let us all during the Holy Great Fast, pray that this will be a time of spiritual renewal and reconciliation as we approach the promise of salvation through the Glorious Resurrection,
Bishop Youssef
Bishop, Coptic Orthodox Diocese of the Southern United States