Reading Recommended by His Grace
The Holy 50 Joyous Days
24th day of the blessed month of Parmoute – 12th day of the blessed month of Paone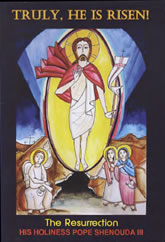 In the Name of the Father, the Son, and the Holy Spirit, One God, Amen.
The reading recommended for the Holy 50 Joyous Days is, "Truly, He is Risen!", written by His Holiness Pope Shenouda III.
His Holiness begins the book a lovely poem taken from Psalm 68, "Arise God arise, let His enemies be scattered" (Psalm 68:1) to give the reader understanding that our Lord Jesus Christ truly rose from the dead and conquered death. He conquered death to give man life and to be victorious over death. For St. John tells us, "I am the resurrection and the life. He who believes in Me, though he may die, he shall live" (John 11:25).
His Holiness further explains the concept of the resurrection and the blessings it bestows upon all of us. The resurrection is a path leading to eternity and is linked to our faith to believe in it. It gives us understanding of the power and love our God Almighty.
Next His Holiness discusses the inevitability of our Lord Jesus Christ's resurrection. Throughout the prophecies, we read about His resurrection, thus He had to rise in order to fulfill them. It was also important for Him to rise since He rose others from the dead personally or through His command after all He has power over death. His resurrection also showed that His Divinity never parted from His Humanity for a single moment nor a twinkling of an eye making it impossible for His body to remain dead.
The restoration of faith for the disciples and the strengthening of the church are the effects of the power of the resurrection as His Holiness elaborates in this book. His Holiness tell us.
"Whenever we look at the icon of the Risen Christ we remember that we are under the protection of a God who is mightier than death, mightier than conspiracies, mightier than plots, mightier than the death of the cross, mightier than tombs, and mightier than burial."
This book, "Truly, He is Risen!", reminds us that through the glorious resurrection of our Lord Jesus Christ, we have become victorious. It is through this victory that we live the 50 Joyous days with hope, power, and happiness.
May the blessings of the Holy 50 Joyous Days be a time of joyfulness and thankfulness for the opportunity to renew our immortal life into the everlasting life.
Bishop Youssef
Bishop, Coptic Orthodox Diocese of the Southern United States