The Church Rite for Sunday, June 1, 2008
May 31, 2008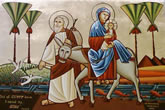 COLLEYVILLE, TX. May 31, 2008 --On Sunday, June 1, 2008, the Church is celebrating one of the Lord's feasts: the Feast of the Lord's Entry into Egypt. This year this blessed feast occurs with the Holy Fifty Days, so the following rules should be observed:
The readings are those of Pashons 24 and not the fifth Sunday of the Holy Fifty days.



The Fraction is the one for the Lord's feast since it combines the Resurrection and the entry into Egypt.



As for the verses of the cymbals, the psali, the doxologies, etc., the responses of the Resurrection are chanted first then the responses of the Feast of the Entry into Egypt.



The response of Psalm 150 is alternating.
May the blessings of this feast be upon you.