Beware of this Book
August 23, 2011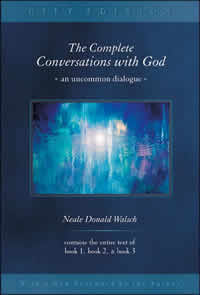 COLLEYVILLE, TX. August 23, 2011 -- The Diocese would like to bring caution to two particular books, "Conversations with God" (3 volumes), and "Conversationswith God for Teens", written by Neil D. Walsh, sound harmless enough bytheir titles alone.
We should encourage our children and youth to read but we must be alert of what they are reading. This book (and others like it) are being sold to school children (The Scholastic Book Club). We need to be aware of what isbeing fed to our children. Not only are these books the false doctrine, but in some instances quote the Word of God in error.
Thus let us be active and informed with what our children should and should not be reading.
"Beware lest anyone cheat you through philosophy and empty deceit, according to the tradition of men, according to the basic principles of the world, and not according to Christ" (Colossians 2:8).
May the Lord guide us accordingly.
Click here for more information.