Southern Coptic Diocese "Youth for Christ" 2012 Award
November 30, 2011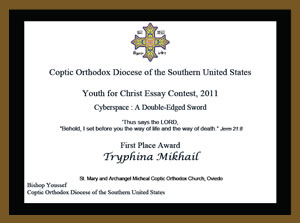 COLLEYVILLE, TX. November 30, 2011 -- Southern Coptic Diocese "Youth for Christ" 2012 Award
The Youth for Christ Award is an annual scholarship and essay contest for High School Youth. We invite young people from the Coptic Diocese of the Southern US this year to write an original essay on the topic "Mercy and Compassion in the Christian life; A personal first hand account". Compassion defined by St. Augustine as "Suffering with the Sufferer"
In this age, youth are consumed with a variety of activities, everything from schoolwork to athletics to church activities. Often times youth may find themselves unwittingly trapped in their own world without any regard for their fellow brothers and sisters in Christ locally and abroad who are in constant struggles. In the safety of a country that has laws in force to protect its citizens from persecution, the true meaning of Christian life is often times lost. This year we have added a twist in which a more interactive experience is necessary for a successful essay. The goal of this contest is to expose the Coptic youth to a greater sense of fellowship through first hand experience via interviews in person or via web; ie (Skype or Facebook) with victims of persecution from Egypt.
The first winner(s) will have his or her paper published on the Diocese website.
The first place winner(s) will be also attending the Diocese Youth Convention completely free. Note: Voucher must be submitted with registration.
The second place winner(s) will be also attending the convention at one third the cost; the third place, at one half the cost. Note: Voucher must be submitted with registration.
Each contestant will receive a certificate signed by HG Bishop Youssef that he/she successfully participated in the contest.
Each Church is encouraged to support her youth in how to think through and address the topic.
Each Church is encouraged to hold a ceremony for all of the church contestants and give additional awards of the priest choice
Deadlines:
January 31, 2012: Registration and Sunday School teacher recommendation which should attest to student's age and character.
March 25, 2012: Outlines are due.
May 25, 2012: Essay is due.
June 25, 2012: Winners Announced.
Submission Guidelines:
Paper should be 4-5 pages, double spaced, 11pt font. Papers should cover the following areas in responding to the topic:
| | |
| --- | --- |
| Biblical Wisdom (Quotes from Old and New Testament on the topic) | 20 pts |
| Patristic Wisdom (Applicable Quotes from the Sayings of the Church Fathers) | 10 pts |
| Comprehensiveness (Covers all facets of the topic: God's command, personal discernment, our will to choose, consequences of our actions, inner struggle,and one's support) | 10 pts |
| Practical Application (addressing which form or forms of experience was used to acquire the first hand encounter and how it enhanced the experience) | 20 pts |
| Demonstrates (how the first hand account impacted the contestant's spiritual life) | 30 pts |
| Conforms to Language Arts standards | 10 pts |
To Participate:
Review Process and Awards:
Papers will be peer reviewed first, then the top 10% will be reviewed by a board.

Each Contestant will submit his/her paper by the deadline.
Names on actual papers will be stripped away (to preserve anonymity) and each anonymous paper will be emailed back to 4 other peers to score it according to the criteria listed above
Peers will give a score based on the criteria listed above, with a final mark out of 100.
Peers will email the scores for each of the 4 anonymous papers to the Diocese.
The diocese will average the scores received from each reviewing peer so that each paper will get a final peer review mark that is the average of the 4 marks given by his/her peers.
The top 10% of all papers will be identified, and will be reviewed by an actual board of reviewers to determine the best paper.

Winning paper(s) will be published on the diocese website.
Ceremony for Award will be made in the winning contestant's church.
Top winner will attend the annual winter youth convention completely free.
This contest is only open to High School Youth.