Kiahk: Hymns & Praises of the Advent Fast
December 8, 2012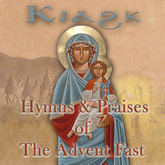 COLLEYVILLE, TX. December 8, 2012 -- Under the auspices of H.G. Bishop Youssef, the Southern United States Coptic Orthodox Diocese releases its third English hymn album:
Kiahk: Hymns & Praises of the Advent Fast.
This two-disc album consists of various hymns of the Advent season praising God and thanking Him for His incarnation. The album is available for digital download on iTunes, Google Play, and Amazon. A hard copy of the album may be purchased at Orthodoxbookstore.org.
Youtube Promotional Video
Additional English hymns and albums may be found at CopticHymnsInEnglish.net
May the blessings of Koiahk season be with us all!