Southern Coptic Diocese "Youth for Christ" 2013 Award
December 15, 2012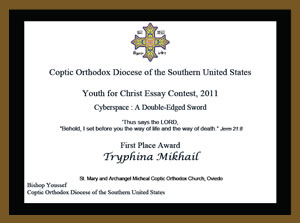 COLLEYVILLE, TX. December 15, 2012 -- Southern Coptic Diocese "Youth for Christ" 2013 Award: Faith In Action
"Faith Without Works is Dead..." (James 2:14)
Traditionally, The Youth for Christ Award was an annual essay contest for High School Youth submitted by individual youth. This year however, we invite young people (both high school and college level) to form church teams to engage in a community outreach project and report on this activity. "For we are laborers together with God: you are God's field, you are God's building" (1 Corinthians 3:9).
The goal of this contest is to encourage the Coptic youth to practice putting her/his faith in action. And to enly a greater sense of the Christian purpose and fellowship through first hand experience by coming up with a community outreach project and reporting on the impact it had both personally and on others.
Each team shall consist of a minimum of 3 youths and a maximum of 5 registered youths, who must be either high school or college age. Teams are encouraged to get others involved to reap the blessing of service. The team has full autonomy on how it operates and should be self directed. The results, however must include:
A report in a written, sound or video form or a combination of them and include the project title, type of outreach, various roles of the team members
The impact the project had on both the participating youth, team members and those being served.
Obstacles, and how they overcame in a Christian approach
Personal reflection (individual or team) on the change this project brought to practicing your faith
The first place church team consisting of up to 5 registered members will be attending the Diocese Youth Convention completely free ( including travel )
The second and third place church teams will be given awards.
Each contestant will receive a Plaque with a certificate signed by HG Bishop Youssef that he/she successfully participated in the contest.
Each Church is encouraged to support their youth, by having youth leaders oversee, co-ordinate and help guide the youth with suggestions for projects.
Each Church is encouraged to hold a ceremony for all of the church contestants and give additional awards of the priest choice.
Deadlines:
January 31, 2013: Registration of team with names of members
March 25, 2013: OOutlines of proposed projects are due
May 25, 2013: Essay is due
June 25, 2013: Winners announced
Submission Guidelines:
The Paper and or Video/Audio synopsis should also include:
Biblical Wisdom (Quotes from Old and New Testament on the proper and improper view of science and new discoveries)


Patristic Wisdom (Applicable Quotes from the Sayings of the Church Fathers)


Practical Application (A detailed account of the project, idea and various roles of the team members)


Illustrates Impact (how the community outreach project impacted the contestants spiritual lives and the potential witnessed impact on those who were served)


If submitting Video/audio, please make sure it is in a universal listening/viewing format (ie: both PC and Mac).
To Participate:
Review Process and Awards:
Synopsis Papers/video/audio will be peer reviewed first, then the top 5 will be reviewed by a board.

Each Church will submit his/her paper by the deadline and list all the team members names.
Judges will give a score based on meeting criteria listed above
HG Bishop Youssef will be reviewing the top 5 final team submissions

Winning submission will be published on the diocese website
Funds this year were donated to subsidize the 1st place church team attendance of the convention.
Ceremony for Award will be made in the winning churches
1st Place church Team consisting of 5 members will attend the annual youth retreat completely free
This contest is open to High School and College Youth