The Departure of His Holiness Pope Shenouda III
March 17, 2012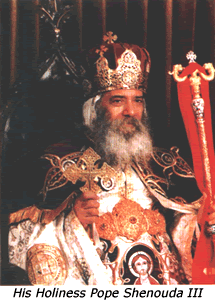 COLLEYVILLE, TX. March 17, 2012 -- It is with great sadness and sorrow that we inform you that our beloved Pope Shenouda III, the 117th Pope and Patriach of the See of St. Mark, has departed to the Paradise of Joy.
His Holiness reigned over the See of St. Mark from November 14, l971 to March 17, 2012. If you like to read more about His Holiness, please click here.
During these days of sorrow, we ask our Lord to grant us comfort. We pray for the soul of our blessed and honored father Pope Shenouda III that the Lord God may repose it in the bosom of our holy fathers Abraham, Isaac, and Jacob in the Paradise of Joy. We beseech our Lord to accept the blessings of His Holiness'prayers on our behalf.