Diocese Updates and Re-Releases Free Digital Pascha Book
April 12, 2014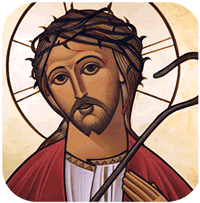 COLLEYVILLE, TX. April 12, 2014 -- It gives us great pleasures to announce the re-release of the Diocese electronic Pascha book within Coptic Reader (the Diocese's mobile application), which includes many updates and revisions.
We are pleased to mention that this publication has been thoroughly updated and greatly improved. All readings have been edited for typographical errors and a great effort has been given to breaking down the text into smaller sections to allow for an improved projection experience when used in Church.
In this release also comes a rare text for Pascha, "The Memoirs of Job." This is read during the sixth hour of Wednesday and done so because the pains of Job parallel the pains of Christ.
Lastly, the entire Joyous Saturday service has also been added for free.
A Note on the Readings:
In a thorough and meticulous comparison with the original Coptic Katamarous, a process overseen by H.G. Bishop Youssef, many extra readings and homilies were noted within the more modern Pacha books - some with questionable authenticity. These were purposefully omitted in an effort to keep uniform with the most ancient manuscripts available to us. Furthermore, the Psalms and Old Testament English translations are taken from the Orthodox Study Bible (with permission from Conciliar Press) staying consistent with the Orthodox-sanctioned Septuagint text.
The Pascha book and Joyous Saturday service are contained within Coptic Reader, which is optimized for both iOS (i.e., Apple's iPhone, iPad, and iPod Touch devices) and Android operating systems. They are available for immediate download and use:
Coptic Reader also contains nearly all of the liturgical publications for the Coptic Orthodox Church in one application. No more guess work! This application automatically calculates the appropriate hymns, readings, and rites that are appropriate for the set day, thus giving the user an effortless experience.
Email us at copticreader@suscopts.org with any errors noted, comments, or questions.