Southern Coptic Diocese "Youth for Christ" 2015 Winners
July 5, 2015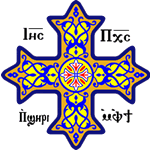 COLLEYVILLE, TX. July 5, 2015 -- We are pleased to announce the Southern Coptic Diocese "Youth for Christ" 2015 Award winners for Sharing our Faith.
For this year's Youth for Christ Award, young people were invited (both high school and college level) to form church teams to engage in a research and community outreach evangelical project and report on this activity.
In America there are many people thirsting for a deeper knowledge and experience of the Church of God. Our Coptic Church was started in America in the late 1960's as an immigrant church to cater to the Copts in the land of immigration. However, over the past 4 decades, there has been a great assimiliation into the American society. A new phenomenon has recently begun, namely, the desire both within and outside of the Orthodox church to integrate with others on a spiritual level. Last year, an evangelical project was undertaken to help youth within the church learn more about the richness of Orthodoxy and subsequently share that faith with others both within and outside the Church. The end result was a new found appreciation for Orthodoxy both from within and outside of the Church. Many non-ethnic Copts have begun to seek a deeper learning and even a desire to convert into the Coptic Orthodox Church. One major obstacle has been the integration of such people into a very ethnocentric church.
The project this year will focused on developing a plan of integration for new comers to the church. This plan should be structured in such a way as to create a means by which a non-ethnic Copt who seeks to enter deeper into the church can easily aquire the knowlege, but also feel completely integrated after conversion.
We thank all those who participated. The winners are:
First Place:
St. Mary and Archangel Michael - Oviedo, FL
Second Place:
St. Mark - Phoenix, AZ