The Life of Service
---

Print |

Send to a friend |

Bookmark | Tweet | |

Back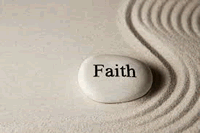 Martha
"And Jesus answered and said to her, 'Martha, Martha, you are worried and troubled about many things. But one thing is needed, and Mary has chosen that good part, which will not be taken away from her.'" (Luke 10:41-42).
There is a difference between wanting to be part of the service, where you select or choose what you would like to serve in, and the service that God wants you to serve in although you might feel lacking or do not have what it takes to serve in this field.
On the surface, the first choice seems more logical. You do what you feel comfort with and what you are good at but, in fact, God never said that serving Him or others will be easy. God did not ask us to serve others because we are good at it, comfortable doing it and or we are better in this particular services than others.
Martha knew the Lord personally. He stayed at their home and she and her family often travelled with Him. However, Martha never took the opportunity to sit by the Lord's feet and to ask Him, "Lord, what you want me to do?" Instead she chose her service for herself and that is why she was not at peace, but on the contrary she was anxious and angry and demanded from Jesus Christ to tell others to help her.
Nothing was said about Martha's service. In spite of her great love for the Lord and for others, Martha's service was done to fill a need and not out of love and kindness. The Lord Jesus Christ would have acknowledged and blessed her service if she chose to sit under His feet as Mary did and if she had had complete faith in Him, that everything will be done in much love and joy in the due time.
St. Paul
"Then Ananias answered, 'Lord, I have heard from many about this man, how much harm he has done to Your saints in Jerusalem. And here he has authority from the chief priests to bind all who call on Your name.' But the Lord said to him, 'Go, for he is a chosen vessel of Mine to bear My name before Gentiles, kings, and the children of Israel.'" (Act 9:13-15).
God calls us to serve when He sees that we are open to do anything He chooses for us. God does not look at what are we good or not good at. In fact, often times God focuses on our weaknesses and deficiencies to see how much we depend on His wisdom and knowledge through His words and His Holy Spirit that lives in us.
St. Paul had the desire to go back to Jerusalem to tell the Jews, his own people, about Jesus Christ and His wonderful encounter with Him. He longed to convert the Jews to Christianity, but God had a different plan for him. And St. Paul chose to obey God's will without murmuring or complaining. Therefore, St. Paul was very content and successful in his service.
Following the same manners as St. Paul, our service will be much more effective and fruitful. Gradually we will understand the reason behind God's calling for us and gradually we will see the Holy Spirit working with us to lead us and support us in every decision we make. And that is how serving God will and can be fruitful.
Philip and the Ethiopian
"Now an angel of the Lord spoke to Philip, saying, 'Arise and go toward the south along the road which goes down from Jerusalem to Gaza.' This is desert. So he arose and went. And behold, a man of Ethiopia, a eunuch of great authority under Candace the queen of the Ethiopians, who had charge of all her treasury, and had come to Jerusalem to worship, was returning. And sitting in his chariot, he was reading Isaiah the prophet. Then the Spirit said to Philip, 'Go near and overtake this chariot.'

So Philip ran to him, and heard him reading the prophet Isaiah, and said, 'Do you understand what you are reading?'

And he said, 'How can I, unless someone guides me?' And he asked Philip to come up and sit with him. The place in the Scripture which he read was this:

'He was led as a sheep to the slaughter; and as a lamb before its shearer is silent, so He opened not His mouth. In His humiliation His justice was taken away, and who will declare His generation? For His life is taken from the earth.' [Isaiah 53:7-8]

So the eunuch answered Philip and said, 'I ask you, of whom does the prophet say this, of himself or of some other man?' Then Philip opened his mouth, and beginning at this Scripture, preached Jesus to him. Now as they went down the road, they came to some water. And the eunuch said, 'See, here is water. What hinders me from being baptized?'

Then Philip said, 'If you believe with all your heart, you may.'

And he answered and said, 'I believe that Jesus Christ is the Son of God.'

So he commanded the chariot to stand still. And both Philip and the eunuch went down into the water, and he baptized him. Now when they came up out of the water, the Spirit of the Lord caught Philip away, so that the eunuch saw him no more; and he went on his way rejoicing. But Philip was found at Azotus. And passing through, he preached in all the cities till he came to Caesarea" (Acts 8:26-40).
God in His wisdom can pull you out from a successful service to another without any warning in order to teach you the following:
Humility
Obedience
How to assess your real motive for serving
How to protect yourself from falling in the pit of pride
Regardless of how, why or where we serve, as servants, we must obey the Lord and our church leaders with complete submission and humility, even if somethings appear illogical sometimes. As servants, God is asking us to be full of love, obedience, and humility in order to work with Him and in order to allow the Holy Spirit to guide us, therefore; anger and stubbornness will be stumbling blocks to the work of the Holy Spirit in us and will be a dark veil that will block God's ultimate plan in our life.
Written By
Nagwa Abdou
---

Print |

Send to a friend |

Bookmark | Tweet | |

Back