Heavily Armed Gunmen...Slaughter Christians Once Again Whose Destination Was St. Samuel Monastery
---

Print |

Send to a friend |

Bookmark | Tweet | |

Back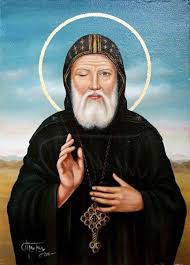 Unarmed, Trapped Inside Chartered Buses
Defenseless Christian Families Are Mercilessly Killed
Fathers, Mothers Brothers and Sisters of Us All
In order to understand the travel destination for the Coptic Orthodox Christian and its popularity one would need to know the timeline of a few, brief historical facts. First, St. Samuel Monastery is an antiquity of the most religious Coptic nature. The monastery was first founded and the cornerstone in place somewhere toward the end of the third century or the beginning of the fourth century after the death or our Lord Jesus Christ.
St. Samuel
Its founder was St. Samuel the Confessor who died at the age of 98 years, on 695 AD. St. Samuel the Confessor is a venerated and honored saint of the Coptic Orthodox Church. At an early age he was instructed in our Lord Jesus Christ's teachings and was obedient to those teachings. He chose not to marry but to become a monk as he loved fasting, praying and being within the church since childhood. He was called "the confessor" because he was ostracized for his steadfast and strong Christian beliefs. He would come to build the St. Samuel Monastery through the grace of our Lord in the late seventh century.
"Do not be overcome with evil, but overcome evil with good" (Romans 12:21).
The Monastery of St. Samuel
Monasteries are austere places of worship. There are few if any distractions. It is their striking sereneness, its subtle quietness, the antiquity of its foundations, and centuries old prayers chanted unceasingly from its cornerstone in place until now; same time, same prayers, same seasonal tones. It is these things that instill knowingness in man that God is ever present.
The Monastery of St. Samuel the Confessor is located in the Western Desert in the province of Beni Suef west of Gebel el-Qualamun. Basically the monastery is up the Nile River from Cairo. Having visited the monastery its image comes quickly to my mind as one of the most awe inspiring places in Upper Egypt for prayer to our Lord Jesus Christ. To walk onto the monastery property is to have treaded where St. Samuel's feet have actually trodden.
St. Samuel the Confessor Monastery lays surrounded within nature--the nature of the desert, the nature of barrenness, with the nature of the sand and somewhat cultivated land becoming one with its surroundings. It is strikingly beautiful. The sun will both rise and fall upon its crosses on rooftop, as they seem to be superimposed within the clouds themselves.
There are five churches at St. Samuel the Confessor Monastery. There is a residence for monks, and outbuildings for the cultivation of the land. So why would anyone desire to visit a monastery? Church outings, groups of people, and the individual are welcome at the monastery to fortify their faith, perhaps to seek forgiveness, or to simply observe the monastic way of life. Perhaps an infant's baptism, the rededication of a life, or the contemplation of a newly appointed priest's life to that of his calling could be a reason to travel to such a remote location.
To visit an antiquity brings many while others it is a simple desire to walk in the footprints of a saint. To witness a Divine Liturgy and its prayers that has endured more than 2000 years. Its prayer schedule always on a timetable, never unchanging and never ceasing that entice Christians to come and put momentum back into their faith.
With this introduction given so that all may understand the background of the Monastery built by St. Samuel the Confessor one is certain to ask, "Why if this is so would anyone kill people either going to visit and or returning from a visit?"
What Does the Ambush and Slaughter of Christian Families Accomplish?
I have three thoughts that readily and very sadly come to me. First this is most certainly a repetitive hate crime occurring in this province of Minya. In 2017, almost at the same location--Coptic Christians were on route to the monastery and more than 20 mercilessly gunned downed and murdered. Think on this: You are travelling on a bus, without a weapon within it, nothing to shield you from the onslaught of bullets. Vehicles surround you with men shooting guns at you. The atmosphere is full of disbelief and confusion.
People are dying everywhere around you including women and children. Unprovoked hate crimes involve people who have no goals other than to eliminate those they truly abhor. It is likely that the gunmen know not one person on the buses. It was just an enjoyment to kill, to take a life. An animal kills for food and protection. Animals do not kill outside of perceived need. These men derive pleasure in killing those who are defenseless.
"Beloved, do not avenge yourselves but rather give place to wrath for it is written, 'Vengeance is mine, I will repay,' says the Lord" (Romans 12:19).
The second thought is home and region perpetrated prejudice is rampant throughout the province. A true prejudice that can kill without guilt, without mercy, and it is ingrained in the hearts and mind of the children of the attackers. PREJUDICE REGENERATES UNTIL IT BECOMES THE HEART AND SOUL OF THE REGION. Someone had to harbor these criminals. Someone fed them and sheltered them. Someone stockpiled weapons and gasoline. Someone provided vehicles. AND THEN SOMEONE HID THEM UNTIL THEY COULD ESCAPE.
Where is the educational, thought provoking reasons why this monastery and these Christians entering into and out of it are targeted? Let us see, the monastery has no weapons, harbor no militants, and send food to no military encampments. So what must be the point? Shoot those who cannot shoot back? Where is the courage in that?
Thirdly, the Christians travelling on the buses in 2017 and now in 2018 were not political figures, were not commentators on the impact of terrorism on all Christians, and were not war mongers inciting war against the non-Christians.
They were simply chosen because they could not fight back. They could not harm their attackers. It was murder, murder, and more murder by the attackers. Murder the men, murder the women, and murder the children. For those who were not murdered but suffered handicaps they will live with throughout life; a leg or arm missing or a head wound that will impair their thinking and movement. For those not disabled physically, what will the dreams of the surviving children on the bus comprise? Can you imagine a six-year-old child watching his mother die in his older brother's arm while the father lay dead beside them all?
"Let the little children come to Me, and do not forbid them; for of such is the kingdom of God" (Luke 18:16).
Martyrdom is as rampant today as in the centuries past. I pray to God, we as Coptic Orthodox do not become complacent in its occurrence and just say "we are getting use to it." Use to what? These men, women and children are to be honored just as in the ancient days we read about in the Synaxarium. History should not forget our martyrs of today as valiant and courageous as in centuries past. Today our martyrs are often caught by surprise with the advent of modern weapons and transportation while in days of old there appears to be a time of preparation to depart.
I would like to conclude that martyrdom is martyrdom in the greatest most respected meaning the word can illustrate. In the days of modern technology, sending men into outer reaches of space, sending men to the depths of the oceans, and the far reaches of inhabitable lands of cold--how have we lost the need to first cleanse our mainland's of terrorism, hate crimes, and prejudice that directly impacts the lives of men, women and children. The advancement of life on earth has left behind the ever-enlarging footprint of persecuting Christians without courage, without mercy, and has taught its young to kill women and children.
I call all to prayerful times and to light a candle as you enter the church each Sunday for 10 Lord's Days, one for each Christian soul slaughtered. Pray for all on the buses but in particular pray for those children with the innocence of soul, inquisitive eyes and laughter and smiles that brighten the very Heaven; some of them are no more. Then as we must, pray for those murderers of whose souls are dark empty chasms. Pray for the goodness of man to be restored.
"In My Father's house are many mansions; if it were not so, I would have told you. I go to prepare a place for you. And if I go and prepare a place for you, I will come again and receive you to Myself; that where I am, there you may be also" (John 14:2-3).
Bishop Youssef
Bishop, Coptic Orthodox Diocese of the Southern United States
---

Print |

Send to a friend |

Bookmark | Tweet | |

Back