Nathanael: Under the Fig Tree
---

Print |

Send to a friend |

Bookmark | Tweet | |

Back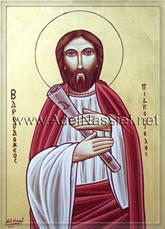 "Phillip found Nathanael and said to him, 'We have found Him of whom Moses in the law, and also the prophets wrote, --Jesus of Nazareth, the son of Joseph.' And Nathanael said to him, 'Can anything good come out of Nazareth?' Phillip said to him, 'Come and see.' Jesus saw Nathanael coming toward Him, and said of him, 'Behold, an Israelite indeed, in whom is no deceit!' Nathanael said to Him, 'How do You know me?' Jesus answered and said to him, 'Before Phillip called you, when you were under the fig tree, I saw you.' Nathanael answered and said to Him, 'Rabbi, You are the Son of God! You are the King of Israel!'

Jesus answered and said to him, 'Because I said to you, 'I saw you under the fig tree,' do you believe? You will see greater things than these.' And He said him, 'Most assuredly, I say to you, hereafter you shall see heaven open, and the angels of God ascending and descending upon the Son of Man.'" (John 1:45-51).
The Lord's first disciples were St. John the Baptist's previous followers. These were St. Andrew, St. Peter, St. Phillip, and St. Nathanael who was also known as Bartholomew.
First it should be noted that Phillip brought Nathanael to the Lord Jesus Christ. In seeking Nathanael, Phillip asserted to him who the Lord was by saying, "We have found Him..." Here we see a friend bringing his friend to the Lord.
Nathanael's attitude and personality are starkly unveiled in the Holy Gospel of St. John. Nathanael was later to become one of the Lord's disciples. However, prior to that, Nathaneal was known for his hesitations and doubts. Originating from Cana of Galilee and with affirmed sorely evident prejudices against Nazareth, a town not far from his own, Nathanael skeptically said to his friend Phillip, "Can anything good come out of Nazareth?" To Nathanael the Lord Jesus Christ probably would appear a man no more and no less than a son of a carpenter. If "coming out of Nazareth" formed a judicial blockage in Nathanael's mental judgment, most probably planted there from previous generations, "coming out of Nazareth" must have also created a greater negative impact in the minds of others as well. But his good friend Phillip's intention remained undeterred in spite of Nathaniel's overt skepticism.
No sermon, no arguing, no pleading, not even an ounce of preaching came out of Phillip's mouth. It was just a simply versed, unadorned, ineloquent yet forceful, insisting and promising invitation to "come and see". This hope-charged, high-spirited, steadfast, entreating and persisting message convinced Nathanael to seek out the Lord Jesus Christ, if not for his own sake at least for Phillip's. The reader can imagine how uplifted, enriched and elevated this friendship had become through Phillip's charismatic insistence on Nathanael to "come and see" the Lord Jesus Christ. Philip's care for his friend had shifted the type of their friendship from being an earthly transient friendship to a perpetual heavenly one.
Nathanael did according to Phillip's request and when the Lord Jesus Christ saw Nathanael coming towards him, He said, "Behold, an Israelite indeed, in whom is no deceit!" The Lord Jesus Christ could have justifiably and duly confronted Nathanael about his prejudicial statement of "can anything good come out of Nazareth?". The Lord simply looked beyond Nathanael's well intentioned, harmless personality traits intuitively knowing of his goodness and his pure heart.
"See that you do not refuse Him who speaks. For if they did not escape who refused Him who spoke on earth, much more shall we not escape if we turn away from Him who speaks from Heaven?" (Hebrews 12:25).
Immediately, the Lord Jesus Christ recognized in Nathanael the admirable and desirable traits of sincerity and directness with others. "How do You know me?" was Nathanael's question to the Lord to which He replied, "I have seen you under the fig tree". One would ponder on what Nathanael was doing under the fig tree to make him suddenly accept the Man before him as the Messiah, the Son of God, and the King of Israel? Was he in a spiritual struggle, in prayerful contemplation asking God to show him His Son? Or was it the Lord's spiritual complexity, His heart's divinity, or simply His supernatural prior knowledge of Nathanael hidden beneath an obscure fig tree that convinced Nathanael that the Man before him was actually the Messiah?
"Believing and obeying are in our power" (Clement of Alexandria c. 195).
As a previous follower of St. John the Baptist, Nathanael was no stranger to biblical teachings having certainly been taught words such as Son of God, Messiah, and King of Israel. Therefore, it was not a mental effort on the part of Nathanael but probably a heartfelt one that led him to acknowledge the Lord. Nathanael could not easily and readily believe just anyone was the Son of God.
Henceforth, Nathanael and Phillip's lives took on a new spiritual meaning and complexity and their missionary work abounded.
What lessons are for us to be learned from Nathanael's reluctance to accept Jesus as the Messiah? While a few are listed, it should be recognized that the knowledge that the Man before them was the Lord Jesus Christ was not enough. They obeyed and trusted in what the Lord Jesus asked of them. They spread the Word of God. They were full of submission. In a huge mostly unchartered world often these friends had themselves only to share their convictions with. However, today, we stand in amazement at their accomplishments.
"God's free will is especially obeyed by the free will of good men" (Clement of Alexandria c. 195).
We know the Lord Jesus Christ never forgot Nathanael, because in the Holy Gospel of St. John (21:2) we are told that Nathanael was among those whom Jesus appeared to at the Sea of Galilee after His Glorious Resurrection. Nathanael remained with the Lord Jesus Christ even to the end.
"At the beginning, I lay down the fact that there is one definite thing taught by Christ...You must "seek" only until you have found; once you have "found" you must believe. After that you have nothing further to do but to keep what you have believed...For nothing else is to be believed, and so nothing else is to be sought" (Tertullian c. 197).
We pray that the Lord Jesus Christ may spot us even if it were "under the fig tree" as he did Nathanael in order to ease our life and guide us to fulfill His commandments.
Lord, sanctify our spirits, cleanse our bodies, conduct our thoughts and purify our intentions.
God bless you,
Bishop Youssef
Bishop, Coptic Orthodox Diocese of the Southern United States
---

Print |

Send to a friend |

Bookmark | Tweet | |

Back