Susanna: A Woman to Admire
---

Print |

Send to a friend |

Bookmark | Tweet | |

Back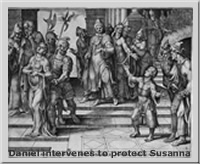 The Holy Bible provides us with several examples of women who can be taken as role models. Through their holy lives, they teach us how to persevere in our own daily lives. Susanna, the wife of Joachim was one such example, who although is only mentioned in short chapter in the Book of Daniel, provides for the modern married woman a plethora of lessons. Susanna, being an ideal model of purity, faithfulness, long-suffering, decency and reliance on God, is the subject of this article.
Susanna's Upbringing
The story of Susanna begins with a brief description of her family. Susanna was the daughter of Hilkiah who was described as a God-fearing man (Daniel 13:2, NAB). Her parents were both just, and were careful to teach their daughter the Law of Moses. They preserved her chastity given they were living in the land of captivity and were surrounded with ungodly practices. Susanna's parents realized the importance of raising their daughter in the way of the Lord, and took care not only to teach her the law, but her parents lived a just life (Daniel 13:3, NAB) which was an example for Susanna to live by amongst the unrighteousness of society. For in like manner, Susanna lived in righteousness and was a living example to her household.
Susanna was careful throughout her life not to show herself in public (Daniel 13:7, NAB), she was decent and careful in her dress and behaviour as reflected in the teachings of St. Peter:
"Do not let your adornment be merely outward—arranging the hair, wearing gold, or putting on fine apparel—rather let it be the hidden person of the heart, with the incorruptible beauty of a gentle and quiet spirit, which is very precious in the sight of God. For in this manner, in former times, the holy women who trusted in God also adorned themselves, being submissive to their own husbands" (1 Peter 3:3-5).
As such, she took care not to be a stumbling block to others around her. She was responsible and consciously aware of those around her, only exposing herself after the assembly left her husband's orchard, and when she asked to be left alone to bath, ensured no one was with her in the compound. In gracefulness she retained honour (Proverbs 11:16), and this honour became that of her husband, Joakim, who was described as the most honourable of all the Jews (Daniel 13:4, NAB). We see here the compatibility of both husband and wife, not so much of earthly similarity, but a compatibility based on the heavenly qualities. More so, Joakim was attracted to Hilkiah and his family to take a daughter for himself which was pure and righteous. Here we see that Hilkiah took care to ensure that his daughter was given to an honourable man, such that her companion would be compatible, just as Hilkiah was with his wife. The married life of Susanna was shown to be a reflection of her upbringing in dealing with her own children, husband, and throughout the hardship she was to experience.
Susanna's Family and Husband
Susanna was married to Joakim for several years and was fruitful in his house. In the manner of her parents, her home was supportive in nature as "she watches over the ways of her household" (Proverbs 31:27) and was a living example to her children and those around her. She looked well to the ways of her household. Her lifestyle was consistent with modesty and purity as when she was accused of adultery, it was written: "there had never been anything of this kind said about Susanna" (Daniel 13:27, NAB). This must be considered in the circumstances surrounding Susanna and her family: her faith was strong in the land of captivity, surrounded with evil and immorality, yet she sheltered herself and her children in her home and did not expose herself to any unrighteousness. She sang with David the Psalmist saying:
"Blessed is the man who walks not in the counsel of the ungodly, nor stands in the path of sinners, nor sits in the seat of the scornful; but his delight is in the law of the Lord, and in His law he meditates day and night" (Psalm 1:1-2).
Although Joakim was a rich man, his faith and that of his family was strong, regardless of the difficulty faced by a rich man to enter the kingdom of heaven (Matthew 19:23). Susanna's husband and parents never wavered in their support or in their confidence in her, regardless of the blame that was set upon her. They were confident and trusted her upbringing and their own parenting. When she was accused of adultery (worthy of death), they accompanied her to her judgement out of their love and trust regardless of the shame people looked upon them. In this we see that Susanna surrounded herself with the people of God, who she influenced and who in turn also influenced her. This was true love, which even in the face of tribulation and death "she arrived with her parents, and sons, and all her relatives" (Daniel 13:30, NAB).
It was remarkable that given the weight of the punishment and the severity of the accusation against Susanna, the children were allowed to accompany their mother to her judgement (Daniel 13:30, NAB). This indicates their absolute love of the children to the mother. Furthermore, it shows the absolute trust Joakim had towards Susanna as he allowed his children to support and accompany their mother, who at the time may have been seen as a poor role model for the children. To him she was a blessing in his home, and Joakim could therefore relate to Solomon as he said "the heart of her husband trusts her, and he will have no lack of gain" (Proverbs 31:11) and again "Her children rise up and bless her; her husband also, and he praises her: 'Many daughters have done nobly, But you excel them all.'" (Proverbs 31:28-29).
This was a true test of Joakim's faith and love towards his wife. He was not seen to jump towards conclusions but practiced wisdom and patience. It was this that preserved and perpetuated the family bond and strengthened their relationship with each other. It is this love at the individual level that extends out to others, as St. John Chrysostom says, "The love of a husband and wife is the force that welds society together." Her parents showed her unwavering support and trust throughout any ordeal regardless of what others said. We see that at the trial, "she came with her parents, and children, and all her kindred" (Daniel 13:30, NAB). Her family thus stood next to her as they trusted their own daughter and their own parenting.
Susanna's Relation to Her Husband
Susanna was an honourable wife who sought to preserve the honour of her husband. It was written she went out to the orchard only after the people had departed; not showing herself to them. Her character earned the trust of her husband, such that although she was accused of a sexual misconduct, her husband kept her in his home and did not cast her out. More so, Joakim, being full of wisdom must have heard of the accusation the day of the incident and did not rush to conclusions nor arising hazardous suspicions. This connotes great love between them which lives out all storms.
Her Purity and the Sin
Susanna was an example of Joseph the righteous, who in the like manner resisted Potipher wife's temptation and saw it better to please God rather than men. It was best to honour God rather than men. Her sole reason to refute their demands was she did not want to sin in the sight of God, and by raising her voice for pleading for help, took an active approach to protecting her purity, just as Joseph did by fleeing. During her trial, Susanna, arrived covering her face from the people, possibly not from shame, as she knew in her heart she was innocent, but because of her modesty. It is remarkable how she maintained her modesty and upheld her morals even though she was walking through the fire of her tribulation; and we sense sweet smelling incense produced by her. During her trial, Susanna did not argue with her accusers, who bore false witness against her, but rather, she said it was better for herself to plea before God rather than before men. She did not seek protection from her father or husband, but instead she cried to the Lord in her defence and saw it better to empty herself before the Lord.
"Then Susanna cried out with a loud voice, and said: 'O eternal God, who know hidden things, who know all things before they come to pass, you know that they have borne false witness against me: and behold I must die, whereas I have done none of these things, which these men have maliciously forged against me.' And the Lord heard her voice" (Daniel 13:42-44, NAB).
It should be noted that her plea was made audible before all the people thereby setting an example once again to the people to pray in the face of the impossible. In her distress, she cried saying:
"In my distress I called upon the Lord, and cried out to my God; He heard my voice from His temple, and my cry came before Him, even to His ears" (Psalm 18:6).
As such, God heard her prayers, "And when she was led away to death, the Lord raised up the Holy Spirit of a young boy, whose name was Daniel" (Daniel 13:45, NAB). It was God who through Daniel defended for her and exposed the evil of the two judges. God used Susanna as a tool to rectify the evil of the two judges who oppressed many innocent people through unjust judgements. Furthermore, God gave a youth, Daniel, wisdom rather than to elders to reveal Susanna's innocence, to further perpetuate the point that "God resists the proud but gives grace to the humble" (James 4:6).
She kept the Lord in her life, and did not forsake Him throughout the trial nor after the trial. Some during tribulations man would blame God, or would say with Job's wife "Are you still holding on to you integrity? Curse God and die" (Job 2:9). Yet, God rewarded her patience and faith just as he did with Joseph. As St. Peter of Damascus says,
Every tribulation that we accept patiently is good and profitable; but if we do not accept it patiently, it drives us away from GOD and serves no useful purpose.
We find that after the ordeal, Susanna and all her household praised God:
"But Hilkiah, and his wife, praised God, for their daughter, Susanna, with Joakim, her husband, and all her kindred, because there was no dishonesty found in her" (Daniel 13:63, NAB).
Susanna's innocence was a stamp on her conduct and lifestyle before all people, who through witnessing her trial and outcome may have repented from their ways. In like manner, we too must live a life which is conducive of purity and righteousness to thereby set an example to our children and those around us. May we learn the life of purity and take Susanna as a righteous example and model to which we should emulate in our married lives such as to bring our selves and those around us to the glory of God, for as our Saviour teaches: "Let your light so shine before men, that they may see your good works and glorify your Father in heaven" (Matthew 5:16).
---

Print |

Send to a friend |

Bookmark | Tweet | |

Back