He is Risen
---

Print |

Send to a friend |

Bookmark | Tweet | |

Back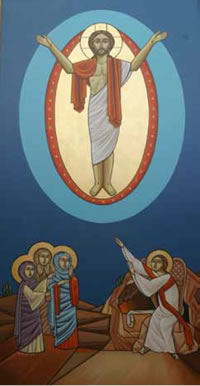 The first page of the infinite chapter of eternal life begins with the Glorious Feast of the Holy Resurrection of our Lord Jesus Christ. He arrived into the world at night, the darkness where humanity dwelt, but arose at the break of dawn to deliver us to the light of the resurrection in Him. A new dawn on the first day of a new week, His empty tomb affirmed the angel's proclamation, "Do not be afraid, for I know that you seek Jesus who was crucified. He is not here; for He is risen, as He said. Come, see the place where the Lord lay" (Matthew 28:5-6). Heavenly participation at His holy birth and heavenly participation at His holy resurrection heralded reconciliation between heaven and earth, resonating with the greatest heavenly joy—salvation of humanity. Indeed, Christ is risen and has conquered.
"Do not be afraid, for I know that you seek Jesus who was crucified" (Matthew 28:5). Words of comfort from an angel instructed the frightened women and reminded them that the Lord said that He would rise. Why then were they alarmed? God had delivered on every promise. Never had it happened that one arose from the dead without the intercessions of another. No one interceded for Him and only a few received Him at His hour of death. Christ is God—Holy, Mighty, and Immortal. He accepted death so that we can have life. We must learn to abolish fear from our hearts since we know that Christ demolished the gates of brass which had ensnared humanity as bound captives. "Christ came that He might slay sin, render death null and void, and give life to men. The Word of God was made flesh in order that He might destroy death and bring us to life, for we are tied and bound to sin" (St. Irenaeus). Fear has no power, no place, and no use for the faithful in Christ the Lord. Death is but a stepping stone to eternal life. The crucified Jesus Christ is our glory. "My spirit is given over to the humble service of the Cross, which is a stumbling block to unbelievers, but to us salvation and eternal life" (St. Ignatius of Antioch).
"He is not here; for He is risen, as He said" (Matthew 28:6). Every promise had been fulfilled. Jesus Christ, the Savior, accepted to bear our penalties by the shedding of His own blood and victoriously trampled death and the sting of death. "After revealing His Godhead by His works, it remained for Him to offer the Sacrifice for all, handing over the temple of His body to death for all so that He might secure and deliver them from their liability for the ancient transgression, and might show Himself superior to death (St. Athanasius). He died alone for us, for only He could accomplish salvation for all humanity. He foretold what was to come to assure us that His death would bring us to everlasting life. "Most assuredly, I say to you, unless a grain of wheat falls into the ground and dies, it remains alone; but if it dies, it produces much grain" (John 12:24). There was no one capable of this magnitude of redemption. The bitter days of captivity are gone. He is the resurrection and without Him, there is only death.
"Come, see the place where the Lord lay" (Matthew 28:6). The heart of the earth—the tomb hewn out of a rock, was no longer a place of death. Angels peacefully sat at the place where they lay the Lord. Christ, assumed that awful place of man's destiny of a bitter end to replace that horror with everlasting life. "For dust you are, and to dust you shall return" (Genesis 3:19). The suffering of Christ is our healing. The place of death, has become the place of life through the holy resurrection of our Lord Jesus Christ. "Christ gave His flesh for our flesh, and His soul for our souls" (St. Clement of Rome). Immediately following the holy sacrament of Baptism, which is dying with Christ and rising with Him, the baptized individual is then chrismated (anointed) with the holy Myron Oil which contains remnants of the spices that had touched the body of Christ at His burial. This heavenly seal of our souls consecrates us to Christ forever. Having put off the old man, we put on Christ and the Holy Spirit dwells in us and is sealed upon us.
The world questions and casts doubt on why would the Almighty God do such a thing when He has other means. He created the world with His Word; why suffer and die in this manner? This was the only way to fulfill God's justice and His mercy. Salvation is not about what He can do, but why He does what He does. As was prophesized by Zacharias and fulfilled by the Lord Jesus, this is "the tender mercy of our God, with which the Dayspring from on high has visited us; to give light to those who sit in darkness and the shadow of death, to guide our feet into the way of peace" (Luke 1:77-79). He became Man so that man can become divine. In His image and likeness, He gave His creation a free will. He restored what man distorted. Christ poured Himself out for us, not just for some elect religious persons nor for a cluster of righteous men or women, but for each person, name by name. This is the power and message of the glorious resurrection. "Greater love has no one than this, than to lay down one's life for his friends" (John 15:13).
Dearly loved brethren, greet each day with joy and sincere repentance, for we live in the victory of His holy resurrection. Though acquainted with poverty, injustice, calamities, and turmoil in the world, have no fear. Christ is risen! May the Lord bless Egypt and all her people with peace. As this blessed country has been renowned and studied for centuries for all her resources, may she set the tone and become renowned for her measures of peace, justice, brotherly love, and goodwill as a leader of leaders for the good of all mankind. We pray together earnestly for our beloved Patriarch, His Holiness Pope Tawadros II, that the Lord preserve his life for us for many years and peaceful times.
May the blessings of the Glorious Feast of the Holy Resurrection be with you all.
Glory be to God, forever, Amen.
Bishop Youssef
Bishop, Coptic Orthodox Diocese of the Southern United States
---

Print |

Send to a friend |

Bookmark | Tweet | |

Back