Egypt - A Land of Democratic Rebirth and Renewal
---

Print |

Send to a friend |

Bookmark | Tweet | |

Back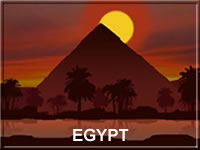 "Be of good courage, and let us behave ourselves valiantly for our people, and for the cities of our God: and let the Lord do that which is good in His sight" (I Chronicles 19:13).
The contributions of Egypt to the world are vast: such as the Library of Alexandria, Pyramids of Giza, the Temples of Luxor, and the Valley of the Kings. Archeology fascinates with the antiquities of Egypt which cannot be denied. World history often seems to begin and resonate from the land of Egypt.
Egypt is a country frequently mentioned in the Holy Bible and a country of considerable prosperity. A country as ancient as the Egyptian beginnings of time, marking its glory not only in its learning institutions and constructions contributions to the world but through its ancient churches and inception of monasticism and monasteries. It is a country that has been known to be THE cradle of Coptic Christianity dating back to St. Mark the Apostle.
Egypt though paramount in many historical aspects of its culture is experiencing a rebirth and renewal in its democratic efforts associated with a political climate change. Small steps leading to larger ones need to address the financial state, the religious diversity, and the political standing of a country can now be retrospectively reconsidered that will be advantageous for most, if not, all its citizens Everyone desires a better way of life. What would a man be if he did not wish to make his world a better place?
With each falter and miss-step, the way a country corrects itself helps to make it a better place; a country learning to stabilize itself and a country where each citizen is capable of expressing his/her will freely. This is what is currently happening in a country tasting a desire to become a democratic nation. With the current political climate in Egypt; the will of the people has far outweighed the democratic nuances and the placatory attitude of "maybe next time we will get it right".
Yet the need for democracy for a better Egypt, for a better world, is resonating like a bell tolling atop a church. Egyptians proclaiming their desire of a more desirous governmental leadership should be whole heartedly supported by all democratic societies. It is important for all democratic countries to remember from whence they came. No one in Egypt was recently assassinated; no one was beheaded, no one was made a mockery of and hung in gallows to die. his was a demonstration of many with good courage. Many religious leaders, military officers, and varying age groups stood united and with one voice of a desirous political change.
A united front requested and then demanded that presidential elections be held early especially in absence of an effective channel of a congressional impeachment process to rely on. A democratic early election would have heard the people's will without turmoil--whether with the present officials continuing to preside or new ones taking the leadership role. Had the peaceful request of an early election been addressed and the people's will been given much consideration, there would have been no civil unrest. Perhaps this would have prompted an impeachment process examination for future requests.
This demonstration was not about war, but about insecurities. We pray that the Lord will give peace to Egypt and security among its people. This is the crux of what the will of the people of Egypt are voicing.
"Do good, O Lord, in Your good pleasure to Zion: and let the walls of Jerusalem be built" (Psalm 51:20, OSB).
But let's examine the unrest. The media has photographed no land mines going off; no machine guns blasting, no swords being drawn; in fact the weapons held have been Egypt's military personnel not the people protesting. The numbers of those protesting has been staggering. If this many people are displeased with the current government leaders it would be best for those leaders and for the people to allow another to lead a country. One who is less controversial would perhaps make a better leader. One who has found favor with larger Egyptian populations of citizens could best represent the needs of those same people. Controversy delays progress.
Good courage can be elusive in a country with so much diversity. Yet it is being shown. A united front with our beloved Coptic Pope, His Holiness Pope Tawadros II, the 118th Pope of the City of Alexandria and See of St. Mark, standing with the military leadership is a rare beholding indeed. Coptic leadership rarely takes a political stand with duties that are overwhelming religious in nature. Yet churches cannot be constructed, repaired, nor expanded without insurmountable difficulty, it becomes a far reaching political issue. When Copts cannot take a census to stand and be counted, yet this is the motherland of the Coptic Church, one has to question what harm can possibly ensue?
It has become a new and enlightened era for Egypt, one which history I pray, will record as benefiting most not few, of growing political responsibility and one of accountability, as well as economic security. Peacefulness must ensue and for this to be certain our countries of dispersion must understand and relate to this plight. We must all support Egypt as it corrects itself and moves forward.
Countries politically such as the United States, Australia, and England should have our input--letters and emails to the president and Congress, your states representatives that we support this potentially positive change in Egypt that is occurring. It is here and now, it has happened; all that needs to occur is a peaceful transition and a new election of promising candidates. Good courage must reign until the transition has taken place with the knowledge that to perfect anything multiple attempts usually take place.
"And some seed fell among the thorns and the thorns grew up and choked it and it yielded no crop. But other seed fell on good ground and yielded a crop that sprang up, increased and produced thirty fold, some sixty and some a hundred" (Mark 4:7-8).
St. John Chrysostom was a political and religious agent for equality. As an admired and quoted early church father, he particularly was concerned about charitable giving and needs of the poverty stricken. He adamantly spoke out against the abuses of personal wealth and personal property. Though he became the archbishop of Constantinople it was against his will and he was nominated without his knowledge. St. John Chrysostom practiced asceticism with vigor yet he was known for his "golden mouth" or moral teachings yet possessed neither political standing nor wealth.
He taught that baptism was a rebirth and that the blood and water pouring from our beloved Lord Jesus Christ having a death spear forcefully penetrate His side was a renewal. Hence from St. John's insightful moral teachings, we learn rebirth and renewal are essential Biblical based teachings.
"Do you wish to honour the body of Christ? Do not ignore him when he is naked. Do not pay him homage in the temple clad in silk, only then to neglect him outside where he is cold and ill-clad. He who said: "This is my body" is the same who said: "You saw me hungry and you gave me no food", and "Whatever you did to the least of my brothers you did also to me"... What good is it if the Eucharistic table is overloaded with golden chalices when your brother is dying of hunger? Start by satisfying his hunger and then with what is left you may adorn the altar as well" (Evangelium 50:3-4).
There are important issues at hand that cannot be minimized that adept political leaders will deal with such as Israel, Suez Canal, and oil flow. But the issues paramount relate to the progression of a country toward a democratic future and country where its citizens' will is heard.
"Behold now, what is so good or so pleasant as for brothers to dwell together in unity? It is like fragrant oil running down upon the beard, the beard of Aaron, running down upon the border of his garment; it is like the dew of Hermon, running down upon the mountains of Zion;" (Psalm 133:1-3, OSB).
A special Synodical Committee has been established to accept Coptic donations from all dioceses. The donations are to be channeled through the Synodical Committee to support Egypt, its military personnel, commerce, and regrowth. The donations will also support a political platform which will cultivate an independent Egypt non-reliant on other countries for monetary support. If you would like to donate online please go to the Southern Diocese donation page at www.suscopts.org/diocese/donations/ and select from the program designation list "HOPE: For A Better Egypt". If you like to donate via check to the Diocese, please make the it payable to "Diocese of the Southern US" and mail it to PO Box 1005, Colleyville, TX 76034 indicating in the memo "FOR A BETTER EGYPT". You can also donate to your local church and earmark the funds "FOR A BETTER EGYPT".
Rebirth and renewal and good courage go hand in hand. Good courage is not violent, plundering nor pillaging. Good courage always keeps our beloved Lord Jesus Christ foremost and our Christianity reminiscent of His precious Blood and Body.
From those in the lands of immigration--as the proverbs of King Solomon are written "As cold water is agreeable to a thirsty soul, so is good news from a far-off land" (Proverbs 25:28, OSB).
May the Archangel Michael intercede for our Coptic homeland as the head of the heavenly powers, the angel of peace and joy and servant of the All-powerful Lord and our donations show our love for Egypt our birthplace and heritage.
Bishop Youssef
Bishop, Coptic Orthodox Diocese of the Southern United States
---

Print |

Send to a friend |

Bookmark | Tweet | |

Back